The Ultimate Smudging guide
White Sage is used to prepare people for ceremonies and teachings. Also known for its antibacterial properties
White Sage is used for releasing what is troubling the mind and for removing negative energy. It is also used for cleansing homes and sacred items.
clearing negative energies of spaces, people or objects. 
Desert / Blue Sage, also known as Grandmother Sage.
Can be used in ritual ceremonies, house cleansing, or simply for the pleasure of its fragrance.
used by Native Americans for thousands of years for cleansing, purifying ones self and others as well as an area of space through the technique of smudging.
Ward off bad feelings and influences.

Used for cleansing of negative energy 
Floral Sage Smudge are cleansing energy wands handcrafted using pure and sacred ingredients. Traditionally used for centuries to purify, cleanse and revamp your energy. Each bundle is wrapped with organic hemp string, sustainable white sage and locally sourced rose petals for positivity and self love.
Rose is associated with love and beauty.
associated with love and wisdom.
Floral Sage Smudge w/Lavender is known to help encourage a restful night's sleep as well as peace of mind, relaxation and happiness. Lavender is unique cleansing tool.
Lavender has many magical uses, including cleansing, psychic protection, and increasing clairvoyance. Creating the energy of happiness and healing.
purification, and tranquility
Palo Santo the "Holy Stick" or "Holy wood" is a natural wood aromatic incense used for centuries by the Incas and indigenous people of the Andes for medicinal purposes, and as a spiritual remedy for purifying and cleansing, as well as to get rid of evil spirits and misfortune.
for deep healing and clearing energy.
relieving the symptoms of headaches, inflammation, emotional trauma, stress, colds and much more.
Palo Santo has a citrus- like scent.
Sweetgrass Braid symbolizes healing, peace, and spirituality in many Native cultures, and braids of sweetgrass are sometimes left as offerings at graves and sacred sites.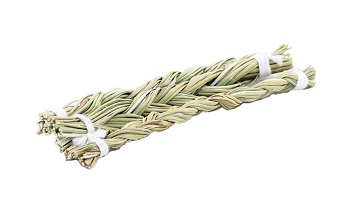 Mugwort "Black Sage" or Artemisia Vulgaris – Thick stands of fragrant, broad leaved plant run up and down both sides of the riparian, mountain paradise. The sound of a creak rippling under the sweet, sunshine wind full of bees and hummingbirds enjoying the new flowers after the snowmelt.
the herb brings clarity deepens intuitive abilities as well as removes the unwanted energy.

invites in positive energies and spirits.
Unique vanilla-like scent – one of the most beloved of all Western plants for burning.
Cedar – The dappled light through a thick forest in the Pacific Northwest marks the trail back to the campfire. Little mushrooms rise up through the damp, black soil on both sides of the narrow path under the towering trees.
Renewal, Protection and grounding
Spicy Ginger, Fresh Moss, Ancient Coastal Rainforest
Dragons Blood Sage-
Dragon's Blood is used for healing, protection, and banishing. Many Pagan paths believe that adding Dragon's Blood to any other incense or herb blend will increase the potency of the original mix. Dragon's Blood also comes in handy when it comes to cleansing a space.